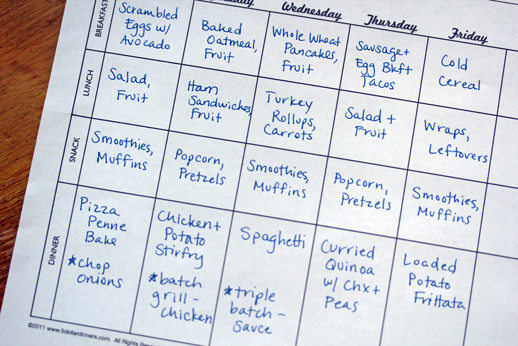 When it comes time every Sunday to put together a meal plan and kitchen strategy for the week, I'm always looking to combine meals and tasks to get the most bang for my buck…and my tick-tock. Making One Dish Dinners is certainly an easy way to make the most of your time in the kitchen.
As I test recipes for my One Dish Dinners cookbook and as I fiddle with ingredients and one dish cooking methods, I have found that the time that it takes to assemble the recipes and get them going in the slow cooker or baking in the oven or sauteing in the skillet is often less than 10 minutes…sometimes even less than 5 minutes!
One of the reasons that it takes me so little time to assemble some of these recipes is because I already have some of the leg work done ahead of time…chopping onions, batch grilling chicken, doubling or tripling a red or white sauce…then it just becomes a matter of dump and cook!
Let's take a look at the meal plan above and you'll get a sense for what I'm talking about. On Monday night, I'll chop up some onions while the Pizza Penne Bake is cooking (and I might even throw some into that meal too.)  Then I've got them for later in the week for breakfast tacos, Curried Quinoa with Chicken and Peas, and whatever I don't use I can toss in the freezer to use in a soup or stirfry later in the month.
On Tuesday night, I'm going to batch grill a few extra packages of chicken breasts with the Chicken and Potato Stirfry is on the grill.  Then I can use the grilled chicken for the Curried Quinoa recipe, or tossed onto a salad at lunch.  And just like the onions, whatever is not used can be frozen for later use.
And on Wednesday night when I'm making my favorite spaghetti sauce, I might as well triple the batch of sauce so I don't have to make that on another night when I need a quick "no brainer" meal!  Are you starting to see the method to my madness?!
Being able to spend less time in the kitchen will allow you to spend more time with your family doing the things you love to do!
The meal planner pictured above, and other printable planners, are available for free on the $5 Dinners Printable Planners page.
What are some ways that you stretch your bucks and your minutes in the kitchen?!