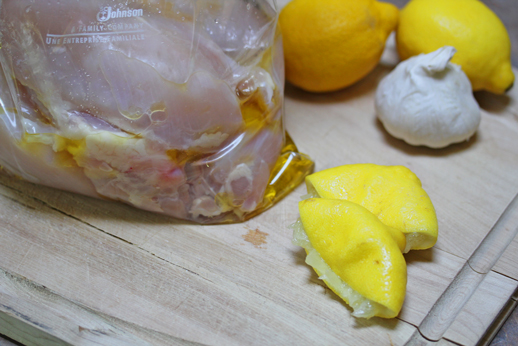 As we roll into summer and we spend more and more time in front of the grill, there are 2 concepts that you need to start implementing…to help you spend less time in the kitchen or out by the grill.
Marinating. Batch Grilling.
You know I'm all about spending as little money as possible at the grocery store…but I'm also about streamlining my time spent in preparing the delicious foods that we eat every day.  Cooking from scratch most nights of the week can be time consuming, but there are a few strategies that you can implement to help you spend less time on a future meal.
When you marinate and batch grill…you can accomplish both the spend less time and spend less money. Double score!
When I spy chicken breast on sale for $1.88/lb or $1.99/lb, I'm going to take advantage of this pricing and purchase several packages.  As soon as I get home from the store, I will open all the packages and place them into a plastic freezer baggies and add the marinade (recipe below). Squish the marinade around to get it to cover all the chicken and then let it sit in the fridge for up to 2 days.
From there, I will "batch grill" the chicken. (You can also batch grill burgers, fish, kebabs.) Simply cook all the 8 chicken breasts from the marinade…then cut some into slices, others into cubes and portion out into 2 cup portions.  The 8 chicken breasts will likely give you 4-5 meals worth, of 4 serving sizes. The batch grilled and sliced/cubed chicken pieces can then be frozen for future use.
Then when it comes time to make a quick pasta salad or casserole, you've already got some delicious, smoky grilled chicken prepared in the freezer!  Perfect topping for a salad made with lettuce from your garden, too!
Garlic Lemon Marinade for Chicken

Yield – Enough for 8 chicken breasts

Ingredients

8 chicken breasts
1/4 cup olive oil
Juice from 3 lemons
6 garlic cloves, crushed
1 Tbsp kosher salt
Pepper

Directions

Place the chicken breasts into a large plastic baggie.
In a small mixing bowl, whisk together the olive oil, lemon juice, crushed garlic, kosher salt and pepper.
Pour the marinade over the chicken.  Seal the bag and squish the marinade around so it covers all the chicken.
Refrigerate for at least 2 hours, ideally overnight.
Batch grill…then freeze the cooked chicken pieces.
Do you have a favorite homemade chicken, beef, pork or seafood marinade?! If so, we'd love to hear about it!