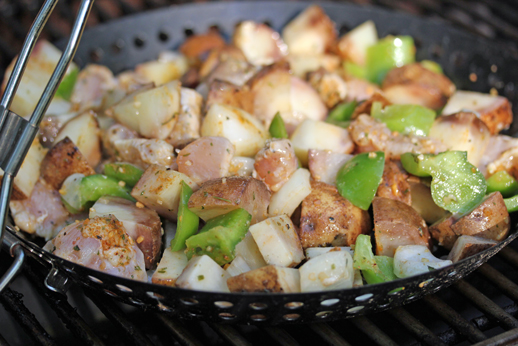 Can you really do an entire meal on the grill?!
Why yes. Yes you can.
This is the perfect one dish dinner…all cooked together on the grill.  And served with a few watermelon wedges that are sweet, juicy and drip all down your chin!
Summertime perfection!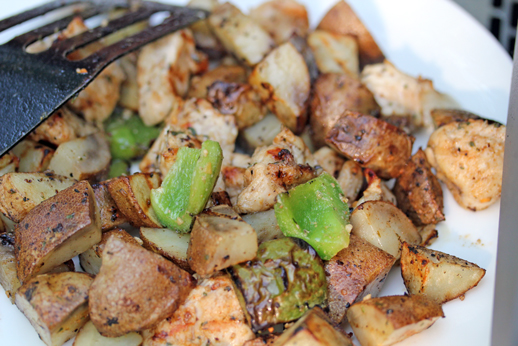 We enjoyed this earlier in the week…and I love the "grill breath" that it leaves behind! Love, love, love dinner all on the grill!
Chicken and Potato "Stirfry" on the Grill

Yield – 4 adult servings
Prep Time – 15 minutes plus marinade time
Cook Time -20 minutes

Ingredients

2 chicken breasts, about 1 lb., cut into bite size pieces
2 Tbsp olive oil
2 tsp red wine vinegar
2 Tbsp garlic and onion grill seasoning
4 medium Idaho potatoes
1 green pepper, seeded and diced
1 onion, diced
Ketchup

Watermelon, or other fresh fruit, on the side

Directions

Cut the chicken into bite size pieces and place in a mixing bowl with the olive oil, red wine vinegar and seasoning.  Let marinate at least 30 minutes in the refrigerator.
Microwave the potatoes for a few minutes before slicing. (This will help them cook faster on the grill.)
Toss the potatoes, diced peppers and diced onions with the chicken pieces.
Place the mixture into the grill basket and cook for about 20 minutes, or until chicken pieces have cooked through. Toss and turn the chicken and vegetables often while they are grilling.  Use caution as grill basket handle is hot!
Serve with ketchup and a side of fresh fruit like watermelon or other fresh fruit.