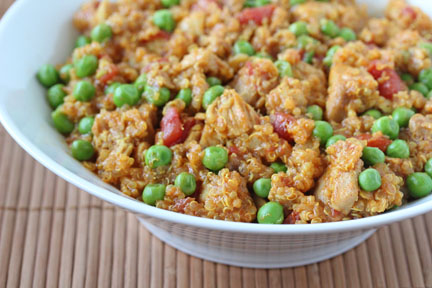 So here we have it.  The curried chicken quinoa with peas recipe…that I will be making 3 times a week, just for Tyler.
Well, maybe not that often…but it's certainly one I will be adding to our regular rotation!
There is so much flavor in this recipe, despite it's simplicity. This is what I love about One Dish Dinners!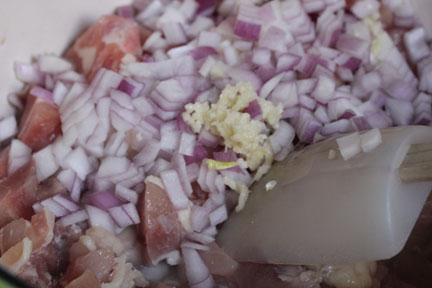 Saute the chicken pieces, chopped onion and crushed garlic in a Dutch Oven.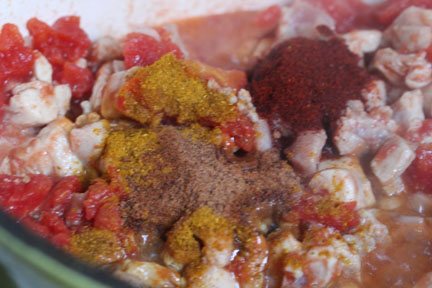 Spicify.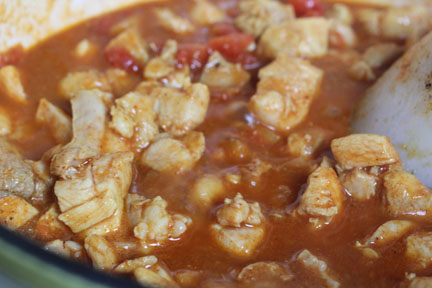 Stir in the canned tomatoes.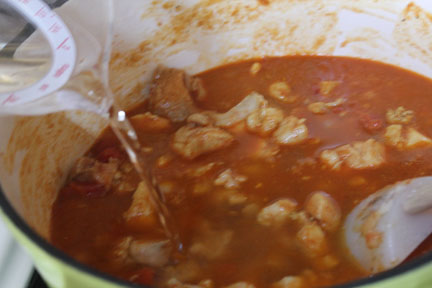 Add water.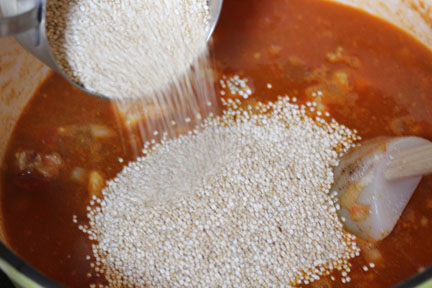 Quinoa.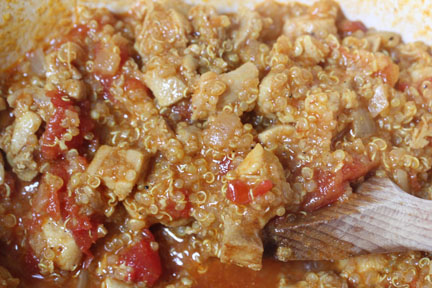 Voila. (Minus the peas.)
(Those get mixed in at the end.)
Are you ready for this "Tyler couldn't get enough of it" recipe?!?
I hope you enjoy it as much as Tyler did!!!
Curried Chicken Quinoa with Peas

Ingredients

1 Tbsp olive oil
About 1 1/2 lb. boneless skinless chicken thighs, cut into bite size pieces
1 small red onion, chopped
2 garlic cloves, crushed
1 15 oz. can petite diced tomatoes
1 Tbsp curry powder
1/2 Tbsp chili powder
1 tsp nutmeg
2 cups water or chicken broth
1 cup quinoa
1 12 oz. bag frozen peas
Salt and pepper to taste

Directions

Add the oil, chicken pieces, chopped onion and garlic to a Dutch oven.  Saute for about 10 minutes, or until chicken pieces are mostly cooked.
Add the diced tomatoes, undrained, curry powder, chili powder and nutmeg.  Stir until combined and let cook for about 5 minutes.
Stir in the water and bring to a bubble.  Stir in the quinoa, bring to rolling boil and then reduce heat to medium low, cover and cook for 20 minutes.  With about 5 minutes left to cook, stir in the frozen peas.
Turn heat to low and keep warm until ready to serve.
Makes 4 adult portions.