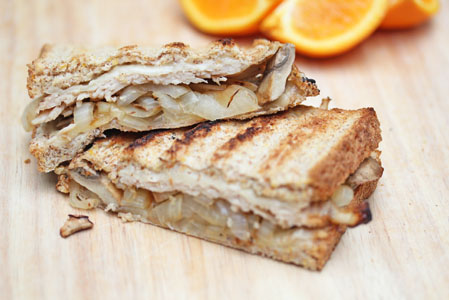 Panini. Yes, please.
Panini on the grill. Yes, yes, yes please.
I don't have a panini maker. While I've thought a time or two about how it would be nice to have one, I've never been able to justify buying one for "every now and then"…and when I've got a perfectly functioning grill and a brick covered with foil.
Huh?!
Yes…you read that right! You can use a brick covered with foil…or some other heavy contraption that will press the sandwich together on the grill as it cooks and heats through.
So how is it that I'm calling this a "one-dish" dinner?!? If you count the grill as one dish…or the grill basket as the one dish, then it works! Paired with some fresh fruit and you've got a perfect one dish dinner to enjoy during these warm summer nights.  The only other dish you'll need is a cutting board and that won't even get really messy!
The goal (or my goal at least) for one dish dinners is cooked using one dish/grill, easy cleanup, and easy prep. This recipe fits the bill!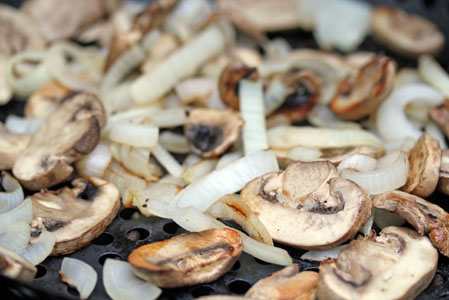 Saute the mushrooms and sliced onions in a grill basket or skillet.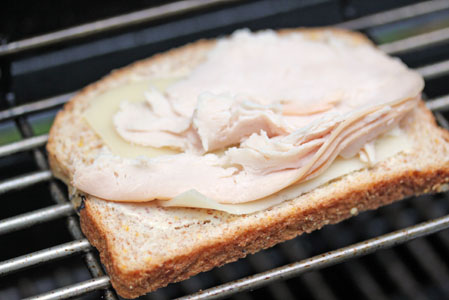 Once the mushrooms and onions are done, prepare the sandwich…spread dijon or spicy mustard onto both slices. Place 1 slice plus 1/2 slice Swiss cheese and turkey delimeat on the bread.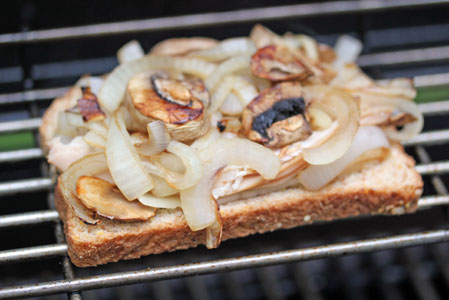 Top with the warm grilled onions and mushrooms, then the other 1/2 slice of Swiss and the other bread piece.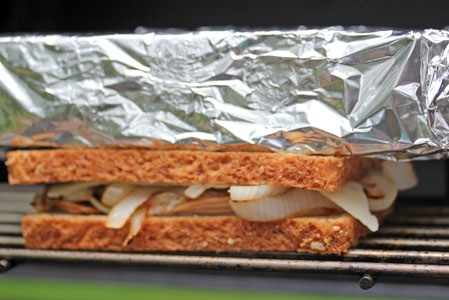 Place brick or other heavy object on top to smoosh the panini together. Grill for 3-5 minutes per side, depending on how hot your grill is…watch the underneaths of the edges of the bread as best you can so that it doesn't burn.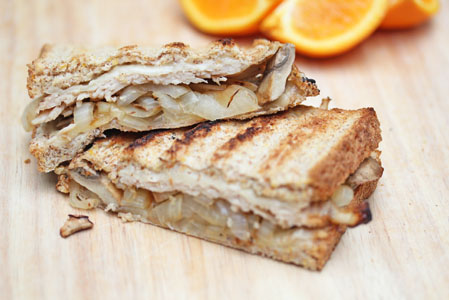 Slice and serve with fresh fruit.
The perfect summertime sandwich!
Turkey, Mushroom, Onion & Swiss Grilled Panini

Yield – 4 servings
Prep Time – 10 minutes
Cook Time – 20 minutes

Ingredients

1 white onion, sliced
8 oz sliced mushrooms
8 slices whole grain bread
About 1 Tbsp Dijon or spicy mustard
6 ounces turkey delimeat
4 slices Swiss cheese
4 oranges, sliced, or other fresh fruit

Directions

Grill the sliced onions and sliced mushrooms in a grill basket or skillet, 5-10 minutes, or until begin to brown.  Toss a few times. (If you don't have one, saute them in a skillet for a few minutes)
Spread the mustard on the bread and once the onions and mushrooms are done, begin to assemble the panini.
Bread – 1/2 slice Swiss – turkey meat – onions/mushrooms – 1/2 slice Swiss – bread
Place on the grill and press down with brick or other heavy object. Place over indirect heat and grill for 4-5 minutes per side.
Serve Turkey, Mushroom, Onion and Swiss Panini with fresh fruit.