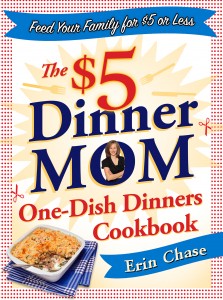 Erin Chase, The $5 Dinner Mom, knows that one-dish dinners are family-pleasing, budget-friendly and easy-to-prepare.  In her crusade to help families across America eat well and stay on their budgets, Erin's back with a treasure trove of more than 150 delicious suppertime solutions all prepared in one skillet, baking dish or pot.  And none of them will break the weekly budget because they all cost no more than $5 to prepare.
After a long day at work or school, how about a plate of sizzling beef fajitas and warm corn tortillas?
Need a mid-week pick-me-up?  How about turning Wednesday night's dinner into a celebration by cooking a scrumptious creole chicken and shrimp pilaf?
Chilled to the bone in snowy late January?  How would you like to come home to a hot and bubbling Swiss chicken casserole?
How does Erin Chase do it?  She's a great home cook with three growing boys to feed and she knows what everyone wants: nutritious meals that taste good, don't cost an arm and a leg and – especially on a busy weeknight – are easy to prepare and even easier to clean up after.  Straight from her kitchen, here's just a sampling of the great dishes just waiting to make your dinnertime delicious:
Bowtie Pasta with Bacon, Corn and Parmesan
Santa Fe Chicken and Rice Casserole
Skillet Taco Pie
Pork Chop and Apple Stuffing Bake
Sausage and Black Bean Soup
Spicy Quinoa with Corn, Beans and Lime
Erin's even included a few $5-and-under desserts like Mango Raspberry Crumble, and Pear, Apple and Caramel Crisp to round out a meal on nights when the budget allows.
With her new book, Erin Chase shows America that it's not only possible to eat right, eat well and stay on a budget.  She also shows us how easy it can be to clean up quickly and spend more time with the family.