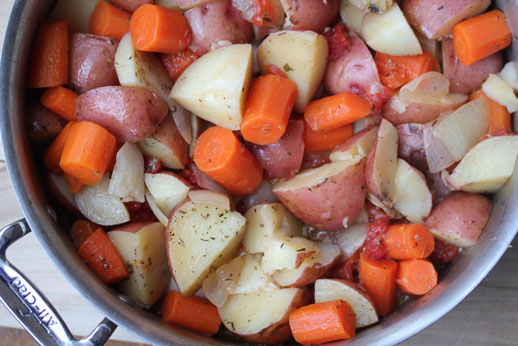 Hiding under all these perfectly tender red potatoes and carrots are a couple of chicken thighs. I promise.
This recipe is a happy accident.
I meant to make this in the slow cooker. Except I didn't get it started in time. I hadn't written it onto my daily planner. And I forgot to set the slow cooker on the counter the night before. And it wasn't until 2:30 pm that I figured out my error.
But thankfully there was still plenty of time to get it made…just not in the slow cooker. The Dutch oven was the only option.
Braise the chicken thighs, while cutting up the potatoes and carrots…then let it slow cook on the stovetop.
(This would work well with boneless chicken thighs. If you prefer to use chicken breast, you might want to add a little more water, as the chicken breasts won't release as many juices as they cook.)
Same delicious result, with minimal fuss and minimal dishes!
Stovetop Italian Chicken with Potatoes

Yield – 4 to 6 servings
Prep Time – 15 minutes
Cook Time – 1 to 2 hours

Ingredients

2 Tbsp olive oil
1 Tbsp balsamic vinegar
8 bone-in chicken thighs
Salt and pepper
About 2 lbs red potatoes, quartered
4 carrots, peeled and cut into circles
1 small onion, diced
1 15 oz. can diced tomatoes, undrained
2 tsp Italian seasoning
Drizzles of olive oil

Directions

Add the olive oil and balsamic vinegar to a large Dutch oven. Turn on the heat and then brown the chicken on both sides. Season both sides of the chicken with salt and pepper.
Add the potatoes, carrots, onion and diced tomatoes over top of the chicken thighs. Pour about 1 cup of water over top. Then sprinkle the Italian seasoning plus a little more salt and pepper over the top.
Add a few drizzles of olive oil over the top. Bring the liquid to bubbling, then reduce heat to medium low and cover tightly.
Let cook for 1 hour to 2 hours, or until chicken is cooked through and potatoes and carrots are fork tender.
Serve Italian Chicken with Potatoes out of the stovetop, as is. No side dish necessary!