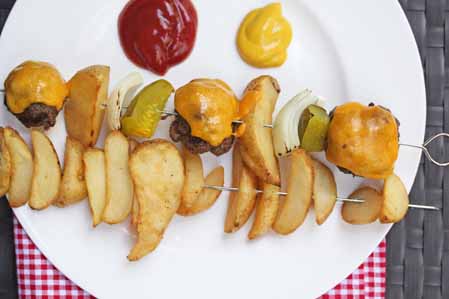 Burgers just got a little more exciting. And tastier…the smoky flavor infused into the pickles and onions is fabulous. Perfect, perfect, perfect!
Serve these as is, or serve each little burger ball on a small dinner roll. We enjoyed these like this with some baby carrots and pineapple.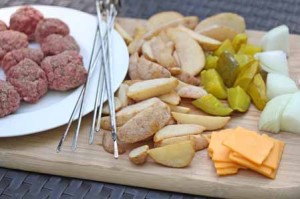 Prep the burger balls, defrost/thaw the potato wedges, cut the onions and pickles, and "quarter" the cheese slices.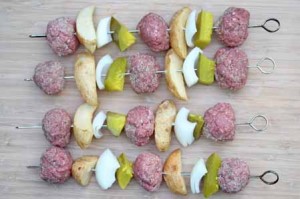 String it all up. Kebab them up. (Can kebab be used as a verb? Hmm.)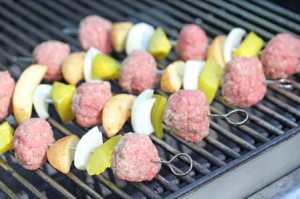 Grill em.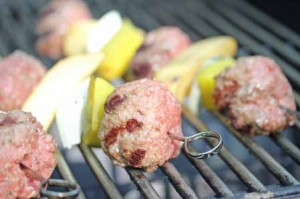 Roll em, and grill all sides.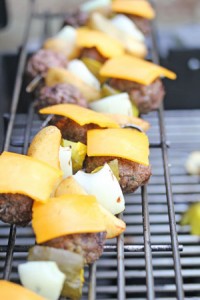 Once the meat has cooked through, move the kebabs off of the direct heat and let the cheese slices melt on the burger balls.
Boom, eat them up!!!
For the rest of the potato wedges, place as many as you can fit onto skewers and grill them for a few minutes on each side, until cooked/warmed through. Serve a skewer or two of grilled fries with your burger kebabs!
A delightful summer meal!
Cheeseburger 'n Fries Kebabs

Yield – 4 servings
Prep Time – 15 minutes
Cook Time – 10-15 minutes on the grill

Ingredients

2 lb. bag of frozen potato wedges
1 lb. ground chuck
1/2 cup bread crumbs
1 tsp Italian seasoning
3 dill pickle wedges, cut into chunks
1 onion, cut into chunks
3-4 slices of cheese, cut into 4 small pieces
Condiments – ketchup, mustard, spicy mustard, mayo, or other favorite
Optional – small dinner rolls for serving

Side dish – fresh fruit or baby carrots or small side salad


Directions

Defrost or thaw the potato wedges completely.
In a bowl, mix together the ground beef, bread crumbs and Italian seasoning. Toss in a little salt and pepper too. Make 12-16 small burger balls that you can skewer. Pack tightly, as they will loosen slightly as you grill them.
Cut the pickles, onions and break the cheese slices into 4 small pieces.
Skewer the burger balls, pickles, onions, and potato wedges. Grill for a few minutes on each side, until meatballs have cooked through. Then move to indirect heat or top rack on the grill and place the cheese slice on top. Close the lid and let cheese melt, 2-3 minutes.
Serve Cheeseburger 'n Fries Kebabs immediately with side dish.