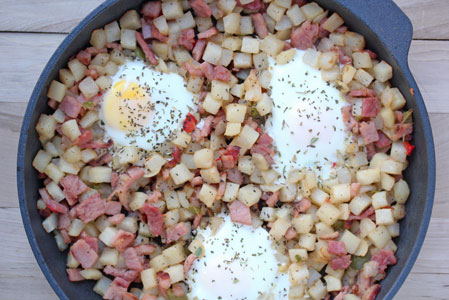 For those here from the Costco Meals post, welcome to my One Dish Dinners site. Stick around and check out the other recipes. A note about this recipe, ham is not on the Costco list because they don't sell it in small enough portions for this particular set of meals. My suggestion, use any you have in the freezer leftover from a holiday meal…OR cut up 2 links of the chicken and apple sausage and toss it with the potatoes before putting in the oven to bake the eggs. 
Ingredient substitution: Chop up 6 of the gold potatoes into bite size pieces and saute as directed.
This is easy enough that it could be a weekday morning breakfast. It does take a few minutes to get things sauteed, but only needs a few minutes to bake. So…it would be easy to fit into the morning kitchen plan…
Turn on oven.
Dump potatoes and ham into skillet.
Make lunches.
Toss the potatoes and ham.
Holler at kids to get shoes on. And to pack their backpacks.
Put the whole skillet into the oven.
Make sure everyone is presentable and that shoes are on the right feet. Cut up fresh fruit. Put final touches on lunches.
Serve warm, filling, hearty and wholesome breakfast.
Give hugs and kisses and send everyone off to work and school.
Or, you could just try this on a leisurely weekend morning…or a weeknight "brinner."
Ham and Potatoes Saute with Baked Eggs

Yield – 4 servings
Prep Time – 10 minutes
Cook Time – 5 to 7 minutes

Ingredients

1 Tbsp olive oil
1/2 bag (28 oz.) frozen diced Potatoes O'Brien (or 3 cups diced gold potatoes)
2 cups ham, diced (or 2 chicken and apple sausage links, diced)
4 eggs
Salt and pepper, to taste
Dash of Italian seasoning for serving

Side of fresh fruit

Directions

Preheat to 350.
Add the oil, potatoes and ham to the skillet and saute for 7 to 9 minutes. Then make a few wells for the eggs.
Crack the eggs into each well. Then put the skillet right into the hot oven.
Bake for 5 to 7 minutes, or longer if you want the egg completely baked.
Sprinkle a little salt and pepper and some Italian seasonings onto each egg.
Serve Ham and Potatoes Saute with Baked Eggs and a side of fresh fruit.