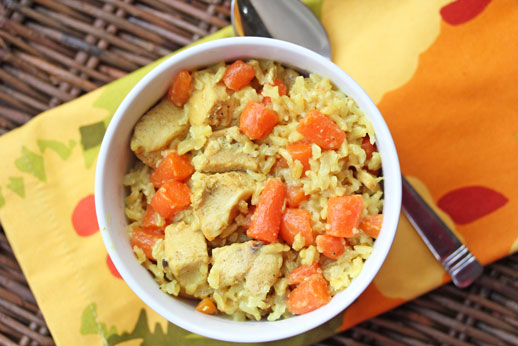 I trust you all have had a wonderful holiday and new year celebration! Other than a trip to Chicago to spend time with family for Christmas, our family did a whole lotta n.o.t.h.i.n.g. these past 2 weeks. Seriously, we did nothing. The big outing of the week between Christmas and New Years was to the grocery store. And a quick trip to grandma's house!
We played games, we watched movies, we made puzzles…the entertainment was endless with all the new toys from Christmas.
And when it came time to cook dinner, I needed easy. I needed something I could drop into a dutch oven or the slow cooker, and plop myself back down on the couch with my book. Or laptop.
This meal was one of those meals…what can I dig out and throw together. Chicken from the freezer, coconut milk from the pantry, carrots from the fridge…and yum!
Simple ingredients. Simple cooking methods. Just what I needed while enjoying our Christmas break!
Coconut Chicken and Rice with Carrots

Yield – 4 to 6 servings
Prep Time – 15 minutes
Cook Time – 50 minutes to 1 hour, or 30 minutes if you use white rice

Ingredients

2 Tbsp olive oil
2 boneless skinless chicken breasts, cut into bite size pieces
2 Tbsp minced onion
1 Tbsp minced garlic
1 15 oz. can light coconut milk (not coconut water)
1 1/2 cups brown rice (or white rice)
2 cups carrots, cut into bite size pieces
2 Tbsp curry powder
Salt and pepper to taste

Directions

In a Dutch oven, heat the olive oil, then saute the chicken pieces with the minced onion and minced garlic until they are brown on all sides.
Pour in the coconut milk with 2 cups HOT water. Bring to bubbling and then add the rice, carrots and curry powder.
Bring to a boil, then reduce the heat to medium, cover and cook for 45 minutes, or until the brown rice is fork tender. (Cook for 18 to 20 minutes if using white rice.)
Remove from the heat to prevent overcooking the rice. Let cool slightly before serving.
Serve Coconut Chicken and Rice with Carrots, as is or with simple side dish.