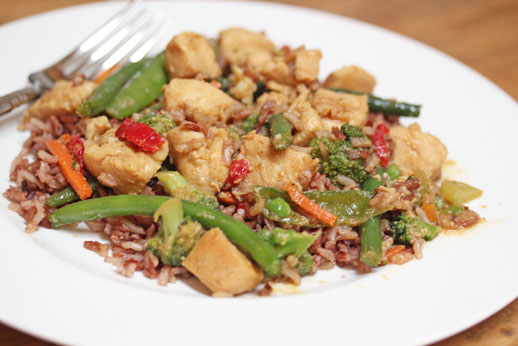 I've been itching to make a stir-fry for weeks.
I love them because they are so flavorful. And easy. And quick. And make your house smell like your favorite Chinese dive.
(As long as you get the rice cooking in time. Or you make with noodles that cook in just a few minutes.)
This was a "one-dish dinner" for us because I used leftover rice. Last week I made a double batch of "red rice" (cooks just like brown rice) that I found in the pantry and wanted to use it. What I had left was too much for one meal, so I just cooked it all and saved the rest for the next night's stir-fry.
Either way…quick and easy. And tasty too!
Orange Ginger Chicken Stir-fry

Yield – 4 servings
Prep Time – 10 mintues
Cook Time – 10-15 minutes

Ingredients

1 Tbsp canola oil
2 chicken breasts, cut into bite size pieces
1 orange, zested and juiced
1 1/2 tsp ground ginger
1 tsp garlic powder
3 Tbsp brown sugar
1 10 oz. bag frozen stir-fry veggie mix

Rice – brown, red, white, basmati or noodles

Directions

Add the chicken pieces into a shallow dish or plastic baggie with the orange juice, zest, ginger, garlic, and brown sugar. Let marinate for at least 30 minutes in the fridge.
In a wok or large skillet, heat the oil. Toss in the marinated chicken pieces and the frozen veggie mix into the skillet and let cook for 8 to 10 minutes, tossing often. Cook until chicken pieces are cooked through…cooking time may vary depending on thickness of the chicken.
Add crushed red pepper to individual servings if you'd like a little heat.
Serve Orange Ginger Chicken Stir-fry over cooked rice or noodles.