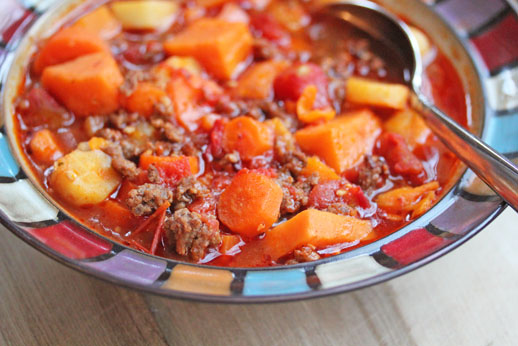 We hear it all the time when talking about cooking, shopping and frugality: eat seasonally.
But what if you don't know how to cook seasonally. You can't eat seasonally if you don't know how to cook seasonal vegetables.
Winter vegetables: sweet potatoes, potatoes, broccoli, kale, cabbage, brussels sprouts, carrots, parsnips, turnips and winter squash like acorn, butternut and spaghetti
Here's a simple chili recipe with some winter vegetables cooked right in.  Your heart and tummy will be warmed by this delicious winter chili.
Other helpful resources –
To make in the slow cooker, add browned ground beef with all other ingredients into the slow cooker and cook on low for 8 hours.
Winter Vegetable Chili

Yield – 6 servings
Prep Time – 15 minutes
Cook Time – 20 to 30 minutes

Ingredients

1 1/2 lb ground beef
1 small onion, chopped
2 garlic cloves, crushed
1 15 oz. can diced tomatoes
2 cups beef broth
3 small sweet potatoes, peeled and cubed
3 carrot sticks, peeled and sliced
2 large parsnips, peeled and sliced
1 1/2 Tbsp chili powder
1 tsp cinnamon
Salt and pepper to taste

Directions

In a large Dutch oven, brown the ground beef with the onions and garlic. Drain and return to the pan.
Add the diced tomatoes, beef broth PLUS 2-3 CUPS HOT WATER (or use 4-5 cups hot water). Bring to a boil and add the sweet potato chunks, carrot and parsnip slices.
Add the chili powder and cinnamon. Bring to bubbling, reduce heat to medium. Then cover and cook for 10 to 15 minutes, or until the sweet potatoes, parsnips and carrots are fork tender.
Serve as is, or with a side of fresh bread. Enjoy!