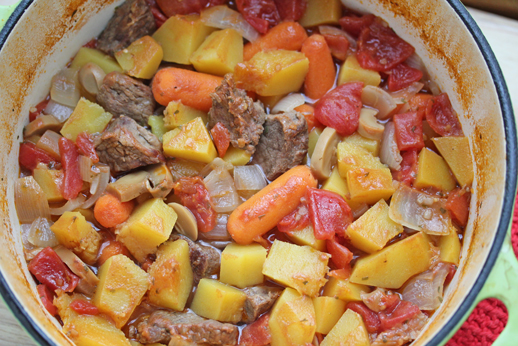 Several weeks ago I purchased a large package of meat for beef stew, that was reduced for quick sale. I split the meat up into 3 baggies, added some seasoning and then tossed them in the freezer. Then came the $.59 butternut squash from Aldi.
Put it all together…and you've got this fantastic, warm your tummy stew. The Dutch oven does a fantastic job of cooking the beef, making it perfectly tender and ultra delicious. This stew has a wonderful balance of flavors, colors and textures…perfect for your next dinner!
(This stew could be served as is, or with any accompanying side dish.)
Dutch Oven Beef Stew with Butternut Squash

Yield – 4 to 6 servings
Prep Time – 15 minutes
Cook Time – 30 minutes

Ingredients

1 Tablespoon olive oil
3/4 lb. stew beef, seasoned with salt and pepper and minced onion
1 butternut squash, peeled, seeded and cubed
1 onion, chopped
1 4 oz. can sliced mushrooms
1 15 oz. can diced tomatoes, undrained
1/2 lb. baby carrots or equivalent carrot sticks
1 teaspoon Italian seasoning
1 teaspoon garlic powder
Salt and pepper to taste

Directions

Add the olive oil to the Dutch oven and brown all sides of the stew beef. Once browned, add 6 cups of water or beef broth. (Add 1-2 more cups if you wish for it to simmer longer.)
Then add the prepared butternut squash, onion, mushrooms, diced tomatoes, carrots and the seasonings. Season with salt and pepper to taste.
Bring to a boil, then reduce heat and let simmer for 25 minutes, or until squash is fork tender.
Cover and let simmer until ready to serve.
Serve Dutch Oven Beef Stew with Butternut Squash in warmed soup bowls.