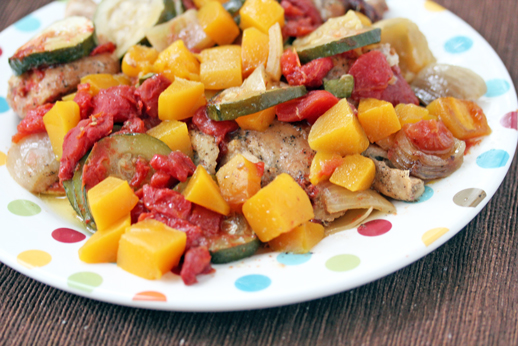 Colorful. I love colorful food.
Tasteful. I love tasteful food. (Who doesn't right?!)
What you see above is what came straight out of the slow cooker. No styling, no color editing…what you see is what you get. I think this is slow cooker food at its finest!
Oh…and the #2 reason that I love slow cooking…it's usually "dump and run." This is one such recipe…and I love that it literally is no fuss. No need to peak, stir, vent…nothing.
And the #1 reason…I can go about my afternoon and deal with the "attitudes of witching hour" without having to fuss with dinner prep.
But really they should be a tie. #1 and #2 reasons are equally important for this busy mama!
Helpful Tip:
Side dish suggestion:
Toast with butter (this is what we had with it)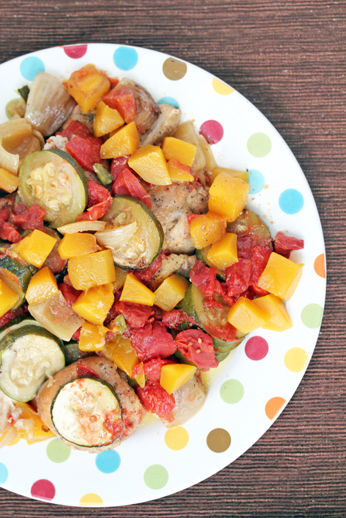 Bon Appetit!
Slow Cooker Mango Chicken

Yield – 4 servings
Prep Time – 10 minutes
Cook Time – 8 hours on low

Ingredients

6 small boneless skinless chicken thighs (about 1 1/3 lb.)
Olive oil, drizzles
Red wine vinegar, drizzles
Garlic powder, sprinkles
Salt and pepper
1 small red onion, diced
1 medium zucchini, thinly sliced
1 15 oz. can diced tomatoes, drained (or 2 medium garden tomatoes)
1 mango, seeded and diced
Salt and pepper to taste

Directions

Place the chicken thighs into the base of the slow cooker. Drizzle the olive oil and vinegar over the top. Season with garlic powder, salt and pepper.
Place the diced red onion, drained diced tomatoes (or cut fresh tomatoes), zucchini slices and mango pieces over top and around the chicken thighs.
Set slow cooker on low and cook for 8 to 10 hours. Dump and run!
Serve Slow Cooker Mango Chicken with toast, as is, or with other simple side dish.