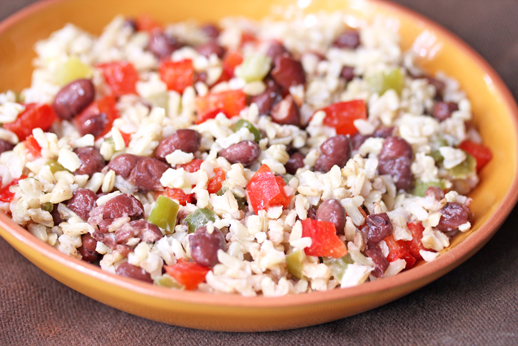 Rice and beans will always be a $5 Dinner. Unless, of course, you go all sorts of crazy and add in expensive spices like saffron or cardamom (2 of the more expensive spices).
Rice is crazy cheap…especially if you buy in bulk. And beans might be even cheaper when you buy dried beans and cook them yourself. (They are really easy to cook…if you haven't tried it, you should. Instructions for cooking dried beans.)
If you really need to make drastic cuts to your grocery budget, then I suggest having at least 2 rice and bean style meals per week. They can cost as little as $2 for a meal for 4 people. So you can see what an impact these kinds of meals can have in reducing your grocery spending.
And rice and beans meals don't have to be boring and bland! You can jazz them up with all sorts of fun flavors…
Fiesta Beans and Rice

Yield – 4 servings
Prep Time – 10 minutes
Cook Time – 50 minutes for brown rice, 20 minutes for white rice

Ingredients

1 ½ cup brown rice
2 cups cooked red beans
1 red pepper, seeded and chopped
1 green pepper, seeded and chopped
1 can (8 ounces) tomato sauce
1/4 cup lime juice
1 teaspoon ground cumin
Salt and pepper to taste

Directions

In a large saucepan or Dutch oven, bring 3 ½ cups of water to boil. Add the brown rice and return to boil.  Cover, reduce heat to medium and cook the brown rice for 45 to 50 minutes, or until tender.
Once the brown rice is cooked, stir in the cooked red beans, chopped red pepper, chopped green pepper, tomato sauce, lime juice and ground cumin. Season with salt and pepper to taste.
If necessary, turn heat to low, cover and keep warm until serving time.
Serve Fiesta Beans and Rice.
Optional: Garnish with fresh cilantro if you have some in your garden or on hand.