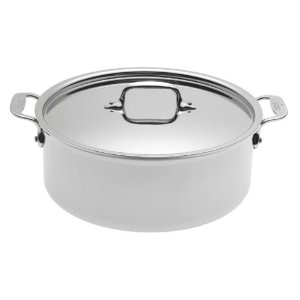 Cookware
I wanted to let you all know that I've added a "Cookware" tab to the navigation bar at the top of the One Dish Dinners website. It has a list of all the products that I use for making one dish dinners! I highly recommend each of these products, and hope you'll start adding to your kitchen collection when you are able. Don't forget to look on Craigslist, garage sales and ask around on Facebook or other social networks to see if you have friends who would give you one or trade!
Ziplist
Also, you may have noticed the little blue button under the ingredients in each recipe. This little blue button makes it easier for you to save your favorite recipes from $5 Dinners to an online recipe box, then add the ingredients you need to your weekly shopping list.
When you click the Save Recipe button you'll have the option to add the recipe to your recipe box or to your shopping list.
Click on the blue button. Register or login when prompted. Then the recipe gets added to your recipe box, and the ingredients to your shopping list. You can add as many recipes as you like…then print your shopping list (or sync with your Ziplist mobile app) and head to the store.
It's that simple!
I really hope you enjoy these two new features here on One Dish Dinners!