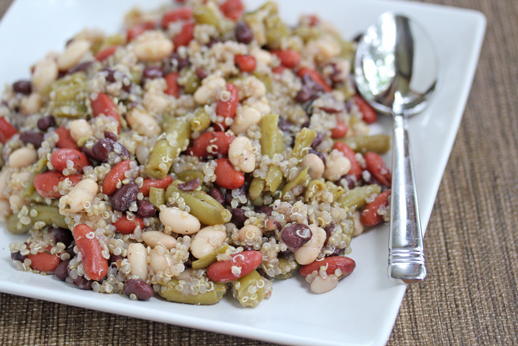 Light. Easy. Summer. Salad.
The quinoa cooks on the stovetop in just a few minutes.  If you really don't want to have any heat in your kitchen, cook the quinoa in a rice cooker out on your patio. Once the quinoa is cooked, the rest is "dump and stir."
A refreshing light salad…perfect for the dog days of summer!
Four Bean Salad with Quinoa

Yield – 4-6 servings
Prep Time – 5 minutes
Cook Time – 20 minutes

Ingredients

1 cup quinoa
1 can green beans, drained and rinsed
1 can black beans, drained and rinsed
1 can red beans, drained and rinsed
1 can white beans, drained and rinsed

Dressing

1/4 cup olive oil
1/4 cup red wine vinegar
1 tsp Italian seasoning
1/2 tsp Kosher salt and pepper, each

Directions

Cook the quinoa according to package instructions.
Once the quinoa has cooked, add the green beans, red beans, black beans, and white beans.
Mix in the olive oil, red wine vinegar, Italian seasoning and salt and pepper.  Mix well.
Chill at least 2 hours in the refrigerator.
Serve for a light dinner, lunch or nibble on for a protein packed snack.