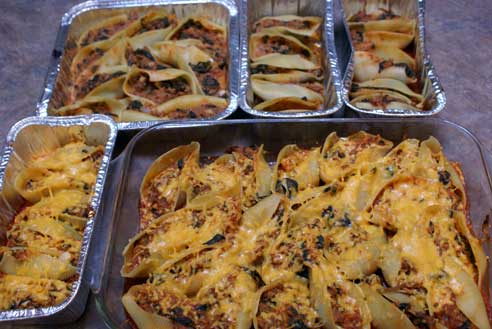 (Recipe: Italian Stuffed Shells on $5 Dinners)
I'm a big believer in taking advantage of the time that you spend in the kitchen.  I batch cook. And batch bake.
A lot.
While I prefer fresh food, hot out of the oven…I often find myself doubling up meals to put in the freezer. To either use for our family on a busy weeknight, or a weekend evening when I don't feel up to cooking.  Or for a friend or family member in need of a warm home cooked meal.
Soon I'll be sharing what does and doesn't freeze well.  But first, I wanted to remind you of a few things you want to remember when it comes to freezing your one dish dinner meals.
1. Cool completely – You can dramatically reduce the amount of freezer burn of your food if you cool it completely before packaging it for the freezer.
2. Double wrap – When you go to package up your meal for the freezer, I suggest using the double wrap approach. Covering a small disposable baking dish with foil, then placing it into a plastic freezer bag.  Wrapping in plastic wrap, then foil.  It's my preferred method and I think it keeps the food better in the freezer.
3. Disposable pan, or line with foil – To save on dishes and to save some elbow grease, do your batch cooking casseroles in disposable pans, or line your glass baking dishes with foil before baking.  Then after the casserole has been cooked and cooled, you can place the baking dish in the freezer.  Once the food is frozen, remove the baking dish from the foil wrapped food.  Then when it's time to thaw and reheat, place the frozen food back in the same baking dish, let thaw…then cook.
4. Label first – If you try to freeze your food, then go back and label it, chances are it won't stick to well.  Tape won't stick to the pans or foil, and a permanent marker won't write well on "wet" frozen plastic baggies or foil. (Ask me how I know.)
5. Thaw in fridge, then reheat. For best results, completely thaw your meal in the refrigerator before reheating it. If you have to reheat it straight from the freezer, I would add at least an additional hour on to the baking time indicated by the recipe.
 What freezing, thawing and reheating tips can you share with us!?