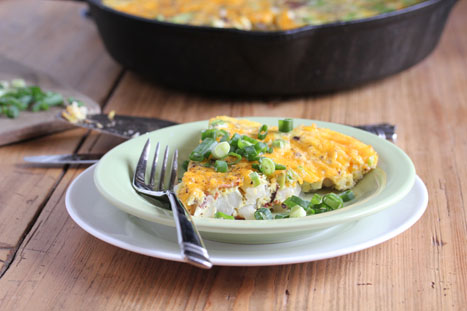 If you are coming over from the 20 Meals from Costco for $150, welcome to my One Dish Dinners site. This recipe is part of Plan #2 and can be made as is, or without the bacon. If you already have bacon on hand, feel free to use. If not, it's easy to omit. The packages of turkey bacon or regular bacon are very large at Costco and not worth purchasing for just 1 meal. Perhaps in a future "breakfast edition"…we will include more bacon recipes 🙂
Frittatas.
They make a great breakfast. They make a great lunch. And they make a wonderful one dish dinner!
You've got the protein from the eggs, cheese and bacon, plus a little starch from the potatoes.  Serve it with a side of fresh fruit and you've got the entire food pyramid covered!
Loaded Potato Frittata

Ingredients

6 slices turkey bacon (optional)
4 medium Russet potatoes
8 eggs
1/2 cup milk
1/4 cup sour cream
Salt and pepper
1 1/2 cup shredded cheddar cheese
1 bunch green onions, sliced

Side ideas: Clementine oranges, apple slices, bananas, cantaloupe wedges

Directions

Preheat oven to 350.
(Optional: Cook the turkey bacon (or regular bacon if you prefer) in the cast iron skillet.)
Remove the bacon from the skillet and then saute the potatoes in the bacon grease for 5 to 7 minutes, or until begin to soften. If you don't make bacon, the cook the potatoes with 2 Tbsp olive or vegetable oil.
In a mixing bowl, whisk together the eggs, milk and sour cream.  Add a little salt and pepper and whisk that in too.
Once the potatoes have softened some, pour the egg mixture over top and let cook on the stovetop for about 3 minutes, or until you see the eggs along the edges begin to set.
Transfer the skillet to the preheated oven and bake for 15 to 20 minutes, or until the eggs in the middle have set.
Add the shredded cheese to the top and then bake for another 5 minutes.  Be sure to use a heavy duty oven mitt, as the handle will be hot, hot, hot!
Once the cheese is melted, remove the skillet from the oven.  Let cool slightly before slicing.
Slice and serve topped with green onion slices and a side of fresh fruit.