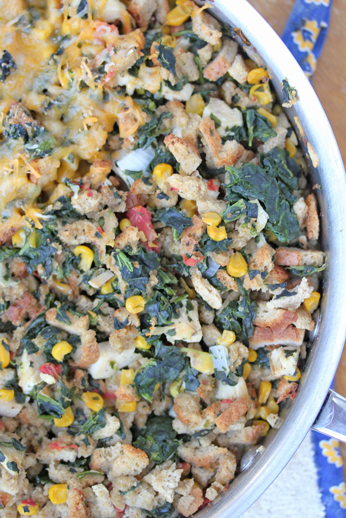 Several weeks (probably months…because I've completely given up on keeping track of time…because life is just moving so fast…and I'm trying to slow it down as much as I can so I can enjoy the little people in my life!) ago, Lisa sent me a recipe and I was intrigued. I'll share her recipe and how I modified it to meet our family's dietary needs/issues.
(No dairy for the kids…but I usually sprinkle cheese on my husband's portion, as you can see above.)
Instead of the nacho cheese soup, I just used a half and half combination of milk and water to make 2 1/4 cups. Then I used a little shredded cheese on top of part of it for Steve.
Our family really enjoyed this recipe…thanks for sharing Lisa! If you'd have a favorite One Dish Dinner that you'd like to share with us…please send it over and we'll try it soon!

Chicken and Stuffing Skillet Dinner

Yield – 4 to 6 servings
Prep Time – 10 minutes
Cook Time – 25 minutes

Ingredients

2 T. chopped onions
1 t. chopped garlic
1 can Rotel
1 cup shredded chicken
1 15 oz. can whole kernel corn
1 10 oz. bag frozen chopped spinach
1 can Campbell's Nacho Cheese Soup
1/4 cup milk (you could probably use chicken broth here, but I didn't defrost any – the milk was quicker)
1 t. Mrs. Dash seasoning
1 14 oz. box or bag stuffing mix

Directions

In a large ovenproof skillet, saute the onions and garlic.
Add the can of Rotel, chicken, corn and spinach. Cook for 2 to 3 minutes in the skillet until heated through.
Add the soup, milk and Mrs. Dash. Then "fold" in the dry stuffing mix.
Place the skillet in the oven and bake for 15 to 20 minutes at 375 degrees.
(Erin's note: I added cheese after it was finished baking.)
SO GOOD!
My kids do not usually eat spinach unless it is in unhealthy spinach dip & they LOVED this too!
I am Lisa Cox from Beech Grove, Indiana.  Very busy mom of 2 teenagers (18 & 14) and 2 pre-teens (twins, 12 yrs. old); total of 4 very healthy appetites!  I strive to cook low-budget, healthy meals for my family.  I work 40 hours a week, and the quicker and easier the meal, the better!