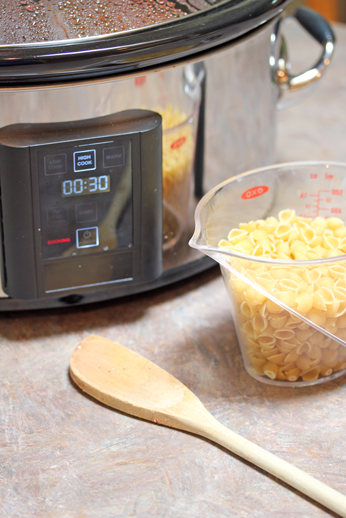 So we recently talked about when to add rice to the slow cooker. And now it's pastas turn.
Making some meat or chicken with a sauce in the slow cooker can make for a wonderful meal.  But cooking the rice or pasta "on the side" is not always necessary. With many recipes, you can add the rice or pasta right in and let it cook during the last bit of cooking.
Pasta can quickly turn into a mushy mess in the slow cooker.  And by quickly, I mean really quickly.
To keep the pasta from getting soggy, add the shells plus 1 cup of hot water (or maybe more, depending on how much liquid is already in the slow cooker) when there is 30 minutes left in the cooking cycle.
If you are using quick-cook pasta that takes just 7 minutes to boil, then I would add it in 18 to 20 minutes left in the cooking cycle. If you are using a heartier, whole grain pasta, than plan to add that 35 to 40 minutes before the cooking cycle is complete.
Also, I recommend transferring the contents of the slow cooker to a large bowl or serving dish, to prevent the pasta from overcooking while the slow cooker sits on the warm setting.
Have you done much slow cooking with pasta or rice?! What have you found works best for you?!