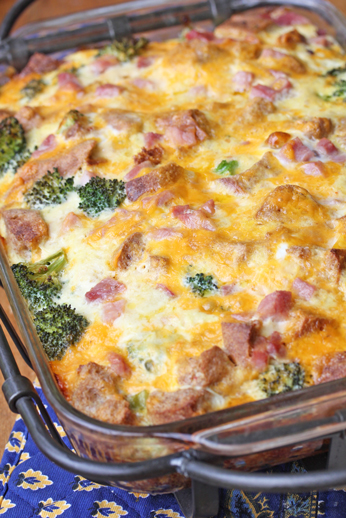 I was at a church brunch recently and the ladies at my table started talking about egg casseroles.  It was fun to hear everyone's take on them…for both sides…the cooking them and the eating them. After listening contentedly for a few minutes, I chimed in with a few thoughts myself.
"I love to add some flare to my egg casseroles…whether it be a particular spice, or a bold and delicious cheese."
I went on to tell them about this one dish egg casserole that I brought and why I chose the extra-sharp, how I took me what felt like 9 minutes to locate the extra-sharp cheddar cheese in the cheese department, and how I used the English muffins because it's what I found in my freezer.
I loved the balance of flavors and textures in this egg casserole.  The crushed red pepper gives a hint of heat. The paprika brings a bit of smoky sweetness, and the ham and broccoli work perfectly with the rich and deep flavor of the extra-sharp cheddar cheese.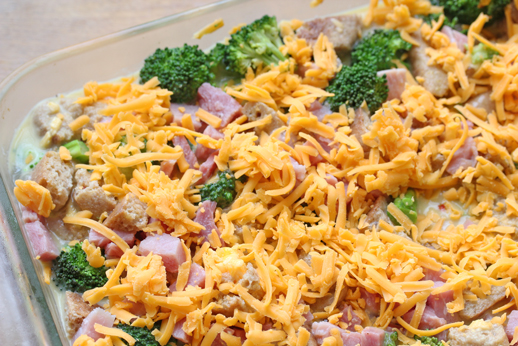 I hope you enjoy the rich flavor that the extra-sharp cheddar cheese brings to this one dish egg casserole!
Ham and Broccoli Breakfast Casserole with Extra-Sharp Cheddar

Ingredients

4 whole wheat English muffins, cut into bite size pieces
2 cups broccoli florets
2 cups leftover ham, diced
8 oz. block extra sharp cheddar cheese, shredded, divided
12 eggs
1 cup milk
1 teaspoon paprika
1/4 teaspoon crushed red pepper
Salt and pepper

Directions

Lightly grease a 9×13-inch glass baking dish with non-stick cooking spray.
In a mixing bowl, toss together the cut English muffin pieces with the broccoli florets, diced ham and about 3/4 cup of the shredded extra-sharp cheddar cheese. Once tossed, pour into the baking dish.
In the same mixing bowl, whisk together the eggs, milk, paprika and crushed red pepper.  Add in a few dashes of salt and pepper as well.
Pour the egg mixture over top of the ingredients in the baking dish.  Cover with foil and refrigerate overnight.
In the morning, sprinkle the remaining shredded extra-sharp cheddar cheese over top of the casserole. Bake, covered, at 375 for 45 minutes. Then remove the foil and bake for another 15 to 20 minutes, or until the casserole puffs up and slightly browns on top.
Serve warm to hungry women at church brunch, or to your own hungry brood!