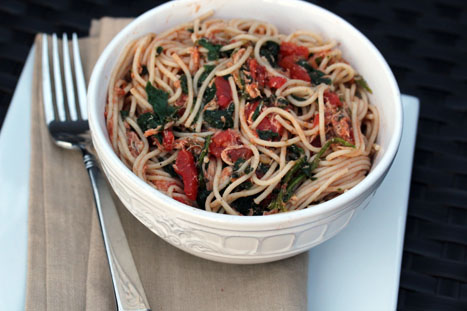 One dish dinners.
They scream simplicity.  They scream ease. And they scream quick.
5 ingredients.  Most of which you likely already have in your pantry and freezer.
20-ish minutes. Or however long it takes you to cook the spaghetti and then toss it with the other ingredients.
You could serve it with a side of bread, or simple side salad…but it really doesn't need it!
And I'm working on an "all in one saucepan" spaghetti…with broken noodles cooking in the sauce…but until it's perfected, we'll have to settle for this "cook the spaghetti, drain, add the mix-ins and then add the spaghetti again" method!
Chicken Spaghetti with Spinach

Ingredients

1 lb. spaghetti noodles
1 15 oz. can diced tomatoes with roasted garlic (any "flavor" will do)
2 10 oz. boxes frozen spinach
2  cups cooked and shredded chicken

Optional: Shredded or grated Parmesan cheese for topping

Directions

In a large Dutch oven or saucepan, boil the spaghetti noodles as directed. Drain and let sit in colander while you prepare the sauce.  Do not rinse.
Meanwhile, cook the spinach in the microwave as directed.  Drain off the liquid, but don't squeeze it dry.
Return the warm Dutch oven or saucepan to the burner and add the diced tomatoes with their juices, the spinach and remaining liquid, and the cooked and shredded chicken.  Stir until well combined.  Season with salt and pepper, to taste.
Reintroduce the spaghetti noodles and toss well.  Sprinkle with Parmesan cheese before serving.