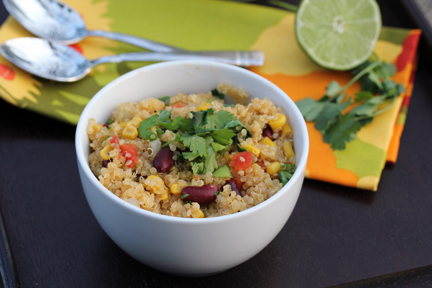 Have you ever cooked quinoa before?! Are you intimadated because it's a funny looking word and a funny looking grain?!  Are you afraid of how it will taste, or if your family will like it?!
I'd love a second to speak to these concerns!
Cooking Quinoa –  It's very similar to cooking white rice, takes about the same amount of time and uses the same cooking method.  Bring about 2 cups of water for every 1 cup of quinoa to a boil.  Stir in the quinoa and return to a boil.  Cover, reduce heat to medium and cook for 15-20 minutes.  The little white ring around the grain will separate from the grain when it is finished cooking.
When adding in different ingredients, it's best to mix them in during the last 5 minutes of cooking, to ensure that the quinoa soaks up all the liquid it needs to cook properly.
Funny Looking Grain – Yes it is funny looking.  But not funny tasting. Which leads me to…
Taste – Quinoa doesn't have much of a "distinctive" taste.  Again, it's similar to rice in that rice doesn't have a distinctive flavor, and neither does quinoa.
Will the Family Like It – When you add in familiar, likeable flavors like lime, cilantro, tomatoes, corn and beans, you might be surprised to find that they just might like it after all.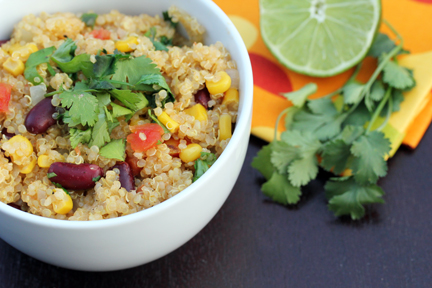 Now, where is the best place to find quinoa?!  Where is it cheapest?!
Costco – Sells 4 lb. bags of organic white quinoa for $10 each, or $2.50/lb.
Amazon – sells both red quinoa and white quinoa, price varies with an average $4.50/lb. price for white and $5.50/lb for red
Whole Foods – sells both white quinoa and red quinoa for an average of $4.99/lb.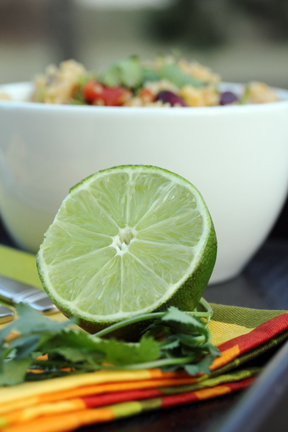 Spicy Quinoa with Kidney Beans, Corn and Lime

Ingredients

4 cups water
2 cups quinoa
2 tsp minced garlic
1 Tbsp minced onion
1 15 oz. can corn
1 15 oz. can diced tomatoes
1 15 oz. can red kidney beans
1 tsp ground cumin
Salt and pepper to taste
Fresh cilantro, chopped
Juice from 1 lime, optional

Directions

In a Dutch oven or large saucepan, bring 2 cups of vegetable broth and 2 cups water (or 4 cups of water) to a boil and then add the quinoa.  Return to a boil and then reduce heat to medium and cover for 15 minutes.
Once the little white rings have started to separate from the grain (after about 15 minutes), add the crushed garlic, finely chopped onion, drained can of corn, undrained can of Rotel, drained can of red kidney beans, cumin and salt and pepper to taste.
Squeeze in the juice of 1 lime and stir.  Let simmer another 5-10 minutes.  Remove from heat and keep covered until ready to serve.
Garnish with fresh chopped cilantro.